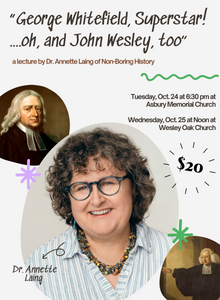 Asbury Memorial Theatre presents:
"George Whitefield, Superstar!....oh, and John Wesley, too."
a lecture by Dr.
Annette
Laing 
of Non-Boring History
Tuesday, Oct. 24th at 6:30 pm at Asbury Memorial Church
and 
Wednesday, Oct. 25th at Noon at Wesley Oak Church
Whitefield. Wesley. Two names all over Savannah like gnats on sand: Churches, streets, even a square and a couple of statues.
Two long-time frenemies who changed America, and the world. 
Two guys from England's backwaters, one of whom started life cleaning hotel rooms. 
Two guys who met in a weird cult and ended as celebrity rivals. 
Which one was the most famous? You might be surprised. 
Whitefield, and that Wesley guy. Products of a fast-changing time in the world, and of Savannah at the time of its birth. 
They stick around, though. So, what difference did they make to Savannah? What difference did they make to you? 
You don't have to be religious, or into history, to enjoy this.  Come meet the guys and see Savannah differently.